Today I'll be reviewing Skate 3, which unsurprisingly is a skateboarding game for the xbox 360 and PS3. Whilst the first two games were also fun, they both had different aspects to them which were combined in the third, so I will only be reviewing that one. The (loose) story to Skate 3 is that you, the legendary skater who took the scene by storm in the first 2 games, are setting up a skateboard company and so need a team of skateboarders to promote it. This involves the usual challenges, like doing certain lines or tricks for photos and videos to attract team members and get board sales, but also involves a new set of tasks called "Hall of Meat".
In the "hall of meat"
challenges, you have to make your skater bail in the most harmful, creative and frankly hilarious ways in order to earn points, which are awarded for the speed of the crash, the number of bones broken, and a number of other things like amount of degrees spun and height fallen. This leads, as I've said, to some
very
funny gameplay, as shown in this video:
It gets funnier when you play with friends.
The controls aren't exactly easy however- this aint no Tony Hawks Pro Skater. To control the board and do all kind of flips and spins, you have to use the analogue sticks- for example, to do a kickflip to have to push the right stick down and then up diagonally very quickly, and to spin your body you use the left stick. Whilst this can take a while to get used to, if you stick at it the controls are easily mastered and quickly make the game a whole new type of fun. You can either be ridiculous and just f**k around in the game, doing insane combos if you have quick thumbs, or you can be hyper realistic and set the game on "real" difficulty to act like a real skater.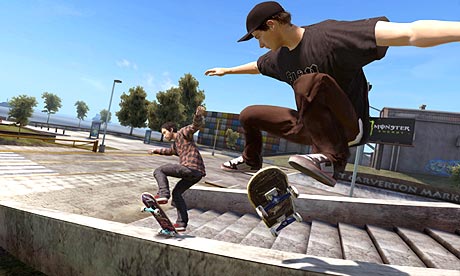 Because if you can do this ingame, why would you want to try it in real life?
The online mode is also alot of fun- you can set up freeskate lobbies with your friends and just skate around the vast and fun to ride game world, or create a team with your buddies and make awesome videos.
The built in video editor is really cool, as if you just landed an awesome trick or perfected a great line, you can relive the moment by pressing pause and rewatching it- the game records as you play. You can then edit this footage and even upload it to the EA servers, where you can show it off and brag to all your friends. Not that you'll have many if you do it too often, but thats beyond the point.
Hey guys, check out this sweet tric- guys? Where'd you go?


Overall I'd definately recommend Skate 3 if you want a different, fun game that really eats up the hours, never gets old and becomes even better when you play with friends. You can probably nab it now secondhand for like £10-£15 ($18-$30ish) and its definately worth it. I hope you found this review helpful, or at least enjoyable, and remember to follow me and leave a comment if you liked it!